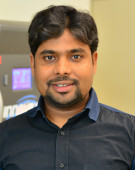 Basudeb Maji
Assistant Professor
Previous appointments:
2020-22   
Assistant Professor

Trivedi School of Biosciences, Ashoka University
Department of Chemistry, Ashoka University
2015-20   
Postdoctoral Fellow

Broad Institute of MIT and Harvard
2016-17   
Postdoctoral Fellow

Massachusetts Institute of Technology, Department of Chemistry
​2013-15   
Research Associate
Research interests:
Please visit us on https://www.bmajinative.com/
Junior Research Fellow: Interested in working on CRISPR biology, gene-editing, Chemical Biology, and infectious and genetic diseases are invited to apply. I have two immediate vacancies, and students are going to be hired from the ongoing interview (January 2023). Interested students are requested to get in touch.

We aspire to translate the basic research into therapeutic applications.
Currently, we are focusing on the following research areas
1. CRISPR-Cas, Genome engineering, Functional Genomics
We focus on developing functionally enhanced CRISPR-systems for their broader and practical application in gene-editing. We employ protein-engineering and chemogenetics for precise cellular gene-editing and investigate their effect on gene-functions for prospective gene-therapy applications
2. Anticancer Drug Development
We work on chemical biology methods for developing targeted chemotherapy. We employ small-molecule probes to decipher the role of various DNA-binding proteins or transcription factors in genome stability,  repair,  plasticity,  oncogenesis, and tumor progression
3. Synthetic Biology and Anti-infective Drug Development
We are working on designing synthetic biology methods for developing precision anti-infective agents. Our primary targets are multidrug-resistant pathogenic bacteria like MRSA and Mycobacterium tuberculosis
Contact:
Address:
Biological Sciences
Unified Academic Campus
Bose Institute
EN-80, Sector V
Bidhan Nagar
Kolkata - 700 091, India
E-Mail:
bmaji[at]jcbose.ac.in
Research:
Dr. Basudeb Maji's research group (Chemogenetic Research Lab) at Bose Institute is working on the frontier of disease biology chemical biology, and medicinal chemistry problems. His lab mainly focuses on protein-engineering, genome engineering, and chemogenetics for precision gene therapy applications and chemopreventive development. His lab works on both organic synthesis and synthetic biology for developing synthetic small molecular probes for genetic and pathogenic diseases like cancer, muscular disorders, and bacterial infection.
Publications:
Please visit us on https://www.bmajinative.com/

For an updated list, please follow the Google Scholar link 
​2022-
1. Kei Yamada+, Arghya Deb+, Veronika M. Shoba, Donghyun Lim, Basudeb Maji, Ashley E. Modell, and Amit Choudhary*. Rational Design of Silicon-Based Zinc Ionophores with AntibacterialActivity. Angew. Chem. Int., 2022, 134 (23), e202201698. (IF 15.3).
2. A general approach to identify cell-permeable, miniature, and synthetic anti-CRISPRs. Donghyun Lim, Qingxuan Zhou, Kurt Cox, Benjamin Law, Miseon Lee, Praveen Kokkonda, Santosh Chaudhary, Rajaiah Pergu, Vedagopuram Sreekanth, Soumyashree Gangopadhyay, Basudeb Maji, Sophia Lai, Yuka Amako, David Thompson, Hari Subramanian, Michael Mesleh, Vlado Dančík, Paul Clemons, Bridget Wagner, Christina Woo, and George Church, Amit Choudhary. Nature Cell Biology, 2022, In press. (IF 28).
3. Nucleic acid editing (Nucleic acid biology and its application in human diseases): Springer Nature. Ayush Mistry, Sadiya Tanga, Basudeb Maji. 2022, In press.
4. Emerging trends in precision drug and gene delivery. Sadiya Tanga and Basudeb Maji. Applied NANOMEDICINE, 2022, 22, 429 (PDF).
5. CRISPR in surveillance and therapy. Akshara Kulkarni and Basudeb Maji, Submitted, 2022.
6. Precision cancer diagnostics and medicines. Manuscript to be submitted
7. CRISPR-CLEAR: An enhanced method for genetic and epigenetic modulation. Manuscript under preparation
8. CRISPR-COOL: An ultimate bioorthogonal method in controlling CRISPR-based gene-editing and transcriptional regulation. Manuscript under preparation
2021-
Sevim Kahraman, Debasish Manna#, Ercument Dirice#, Basudeb Maji, Jonnell Small, Bridget Wagner, Amit Choudhary, and Rohit Kulkarni. Harnessing Reaction-Based Probes to Preferentially Target Pancreatic b-Cells and b-Like Cells. Life Science Alliance. 2021, https://www.life-science-alliance.org/content/4/4/e202000840.
​2020-
M Lee#, B Maji#, D Manna#, J Small, B Wagner, A Choudhary. Native Zinc Catalyzes Selective and Traceless Release of Small Molecules in β-Cells. Journal of the American Chemical Society, 2020,142, 6477-6482. # Equal contribution. (IF 14.6)
2019-
B Maji, SA Gangopadhyay, M Lee, M Shi, P Wu, R Heler, B Mok, D Lee, B Paul, V Dančík, MF Mesleh, A Vetere, LA Marraffini, DR Liu, PA Clemons, BK Wagner and A Choudhary. A high- throughput platform to identify small-molecule inhibitors of CRISPR-Cas9. Cell, 2019, 167, 1067- 1079. Highlighted in more than 12 science media reports. (IF 38.6)

D Manna, B Maji, S. Gangopadhyay, and A Choudhary. A singular system with precise dosing and spatiotemporal control of CRISPR-Cas9. Angew. Chem. Int., 2019, 58, 6285-6289. (IF 15.3)

SA Gangopadhyay, K Cox, D Manna, D Lim, B Maji, Q Zhou and A Choudhary. Precision control of CRISPR-Cas9 using small molecules and light. Biochemistry, 2019, 58, 234–244. (IF 3.0)
2018-
MH Kaulage,a B Maji,a S Pasadi, A Ali, S Bhattacharya and K Muniyappa. Targeting G-quadruplex  DNA structures in the telomere and oncogene promoter  regions  by  benzimidazole‒carbazole ligands. European Journal of Medicinal Chemistry, 2018, 148, 178-194. aEqual contribution. (IF 5.6)

N Dey, B Maji and S Bhattacharya. Motion Induced Change in Emission as an Effective Strategy for Ratiometric Probing of Human Serum Albumin and Trypsin in a Wide Range of Biological Fluids. Chemistry – An Asian Journal, 2018, 13, 664-671. (IF 3.8)

N Dey, B Maji and S Bhattacharya. A Unique Example of Excitation Triggered Alteration in Sensing Behavior of Fluorescent Organic Nanoaggregates: A Multifaceted Detection Probe for Caffeine in Real- Life Samples. Analytical Chemistry, 2018, 90, 821–829. (IF 6.8)
2017-
B Maji,a CL Moore,a B Zetsche, SE Volz, F Zhang, MD Shoulders and A Choudhary.   Multi-Dimensional Chemogenic Control of CRISPR-Cas9. Nature Chemical Biology, 2017, 13, 9-11. aEqual contribution. (Highlighted by Nat. Chem. Biol. News & Views. doi: 10.1038/nchembio.2243.) (IF 12.6) 

MH Kaulage, B Maji, S Pasadi, S Bhattacharya and K Muniyappa. Novel ruthenium azo-quinoline complexes with enhanced photonuclease activity in human cancer cells. European Journal of Medicinal Chemistry, 2017, 139, 1016-1029. (IF 5.6)

T Hussain, D Saha, G Purohit, A Kar, A Mukherjee, S Sharma, S Sengupta, P Dhapola, B Maji et al. Transcriptional control of CDKN1A (p21/CIP1/WAF1) by TRF2 through the REST repressor complex. Scientific Reports, 2017, 7, 11541. (IF 4.0)
2016-
M Kaulage, B Maji, J Bhat, Y Iwasaki, S Chatterjee, S Bhattacharya, K Muniyappa. Discovery and Structural Characterization of G-quadruplex DNA in Human Acetyl-CoA Carboxylase Gene Promoters: Its Role in Transcriptional Regulation and as a Therapeutic Target for Human Disease. Journal of Medicinal Chemistry, 2016, 59, 5035-5050. (IF 6.2)
2015-
B Maji, K Kumar, K Muniyappa, and S. Bhattacharya, New dimeric carbazole–benzimidazole mixed ligands for the stabilization of human telomeric G-quadruplex DNA and as telomerase inhibitors. A remarkable influence of the spacer. Organic & Biomolecular Chemistry, 2015,13, 8335-8348. (IF 3.6)
2014-
B Maji, K Kumar, M Kaulage, K Muniyappa and S Bhattacharya, Design and Synthesis of New Benzimidazole–Carbazole Conjugates for the Stabilization of Human Telomeric DNA, Telomerase Inhibition, and Their Selective Action on Cancer Cells. Journal of Medicinal Chemistry, 2014, 57, 6973-6988. (IF 6.2)

B Maji and S Bhattacharya, Advances in the molecular design of potential anticancer agents via targeting of human telomeric DNA. Chemical Communications. 2014, 50, 6422-6438. (IF 6.0)

B Maji, SK Samanta and S Bhattacharya, Role of DNA Secondary Structures in the Reversible Dispersion/Precipitation and Separation of Metallic and Semiconducting Single-walled Carbon Nanotubes. Nanoscale, 2014, 6, 3721-3730. (IF 6.9)
2013-
B Maji and S Bhattacharya, Molecular design of synthetic benzimidazoles for the switchover of the duplex to G-quadruplex DNA recognition. Chimia 2013, 67, 39-43. (IF 1.2)
2012-
A Paul, B Maji, SK Misra, AK Jain, K Muniyappa and S Bhattacharya, Stabilization and structural alteration of the G-quadruplex DNA made from the human telomeric repeat mediated by Tröger's base based novel benzimidazole derivatives. Journal of Medicinal Chemistry, 2012, 55, 7460-7471. (IF 6.2)

A Paul, AK Jain, SK Misra, B Maji, K Muniyappa and S Bhattacharya, Binding of gemini bisbenzimidazole drugs with human telomeric G-quadruplex dimers: Effect of the spacer in the design of potent telomerase inhibitors. PLoS ONE, 2012, 7, e39467. (IF 2.7)

AK Jain, A Paul, B Maji, SK Misra, K Muniyappa and S Bhattacharya, Dimeric 1,3-Phenylene- bis(piperazinyl benzimidazole)s: Synthesis and structure-activity investigations on their binding with human telomeric G-quadruplex DNA and telomerase inhibition properties. Journal of Medicinal Chemistry, 2012, 55, 2981-2993. (IF 6.2)
2011-
AD Tiwari, AK Mishra, SB Mishra, BB Mamba, B Maji and S Bhattacharya, Synthesis and DNA binding studies of Ni(II), Co(II), Cu(II) and Zn(II) metal complexes of N 1,N 5-bis[pyridine-2-methylene]- thiocarbohydrazone Schiff-base ligand. Spectrochimica Acta - Part A: Molecular and Biomolecular Spectroscopy, 2011, 79, 1050-1056. (IF 2.9)
Patents
View More
Recognition:
Assistant Professor of Molecular Medicine, Bose Institute, 2022
Assistant Professor of Biology, Ashoka University, 2020
Invited Speaker at Nature Chemical Biology conference New York University, NY, USA, 2018
Top 10 Retreat presenter of the year 2017 Broad Institute, Cambridge, MA, USA, 2017
Partners Innovation Discovery Award Brigham and Women's Hospital, MA, USA, 2016
Postdoctoral Fellow Department of Chemistry, MIT, MA, USA, 2016
Broad Next10 Research grant Broad Institute of MIT and Harvard, MA, USA, 2016
Postdoctoral Research Fellow Harvard Medical School, MA, USA, 2015
Students:
| | | | | | | |
| --- | --- | --- | --- | --- | --- | --- |
| Image | Name | Designation | Department | Campus | Contact number | Email |
| | Arkadeep Karmakar | Junior Research Fellow | Division of Molecular Medicine | Unified | | arka717@gmail.com |
Former:
Please visit us on https://www.bmajinative.com/

Current members
Grad Student, Chemistry
M.Sc.: University of Kashmir
Project Assistant, Chemistry
BS-MS: IISER Berhampur
Postdoc, Biology
Ph.D.: Kusuma School of Biological Sciences, IIT Delhi
4. Akshara Kulkarni
Undergrad, Biology
Ashoka University
5. Sona J

ASP, Biology
Ashoka University
Former members
1. Biswadeep Ghosh Roy, Currently: Project Assistant, IISc
2. Dr. Vipin Rangari,Currently: Postdoc at Washington University
3. Vaidehi Sharma, B.Sc in Sri Venkateswara College
4. Dr. Amarnath Pal, Research And Development Specialist, INDO-MIM PRIVATE LIMITED